Everything we know — and who might be responsible.
I'm Isaac Saul, and this is Tangle: an independent, nonpartisan, subscriber-supported politics newsletter that summarizes the best arguments from across the political spectrum on the news of the day — then "my take."
Are you new here? Get free emails to your inbox daily. Would you rather listen? You can find our podcast here.
---
Today's read: 13 minutes.
🇵🇸
Today, we're breaking down what we know about the explosion at a hospital in Gaza.
---
From today's advertiser: Traditional wine culture kind of sucks: Meet Bright Cellars.
Let's get real: Becoming a "wine person" is within reach for anyone — it's just a matter of finding your flavor. That's where Bright Cellars comes in. Their nifty wine quiz uses data to perfectly match you to wines you'll love based on your personal preferences.
Shipped in completely recyclable boxes that are printed with water and soy-based ink, every box brings excitement and new flavors, helping you learn what you like as you sip.
But here's the best part – their commitment keeps flowing even after delivery. Their full-glass guarantee ensures every wine you get is one you love. If you don't love a bottle, they'll replace it.
Plus Tangle readers get a special offer: six bottles for only $55 (worth over $150!). Take the quiz today.
---
Tomorrow.
In tomorrow's Friday edition, we'll be releasing an interview with Chloe Valdary. Valdary is one of the most interesting voices in this political moment, and she currently runs a Diversity, Equity, and Inclusion training program that is positioned to be much different than your typical DEI program. We talked about her work, her politics, and how she ended up doing the work that she's doing now.
---
Quick hits.
---
Today's topic.
The Gaza hospital explosion. On Tuesday, reports broke that the al-Ahli Arab Hospital, founded in 1882 by the Anglican church, had been the site of a major explosion. The hospital has about 80 beds, but was being used to house civilians during Israel's aerial bombardment of Gaza. Video footage reviewed by The New York Times showed "scores of bodies strewn across the hospital's courtyard," suggesting a high death toll from the explosion. Initially, news outlets reported that more than 500 civilians had been killed in an Israeli strike, citing the Palestinian Health Ministry, which is controlled by Hamas.
Israel responded to the accusations by saying it was investigating the explosion, and hours later denied responsibility. Instead, the Israeli Defense Force said the explosion appeared to be the result of a misfired rocket from within Gaza, which the IDF blamed on the Palestinian Islamic Jihad (PIJ), the second-largest armed group in Gaza.
On social media, speculation about the blast was rampant, as few foreign correspondents or local reporters are on the ground in Gaza to provide accurate information. That Israel had been behind the strike was not hard to fathom, given that 15 hospitals in Gaza have already been damaged during the last two weeks, and Israel had warned several hospitals in Northern Gaza to evacuate — including al-Ahli.
Initial reports of the strike came after dark in Gaza, and as day broke, satellite images and drone footage revealed that the hospital — which was initially reported as "leveled" — was still standing. The BBC published one of the most comprehensive reports on the blast after a field reporter got access to the hospital, which has been limited for foreign journalists. They reported that "based on available evidence, it appears the explosion happened in a courtyard which is part of the hospital site. Images… after the blast do not show significant damage to surrounding hospital buildings."
Independent war crime analyst Marc Garlasco stated that the explosion was not an airstrike. Quds News Network released the photo below of the blast site, showing the hospital in the background still standing, but with a few destroyed cars and a damaged parking lot: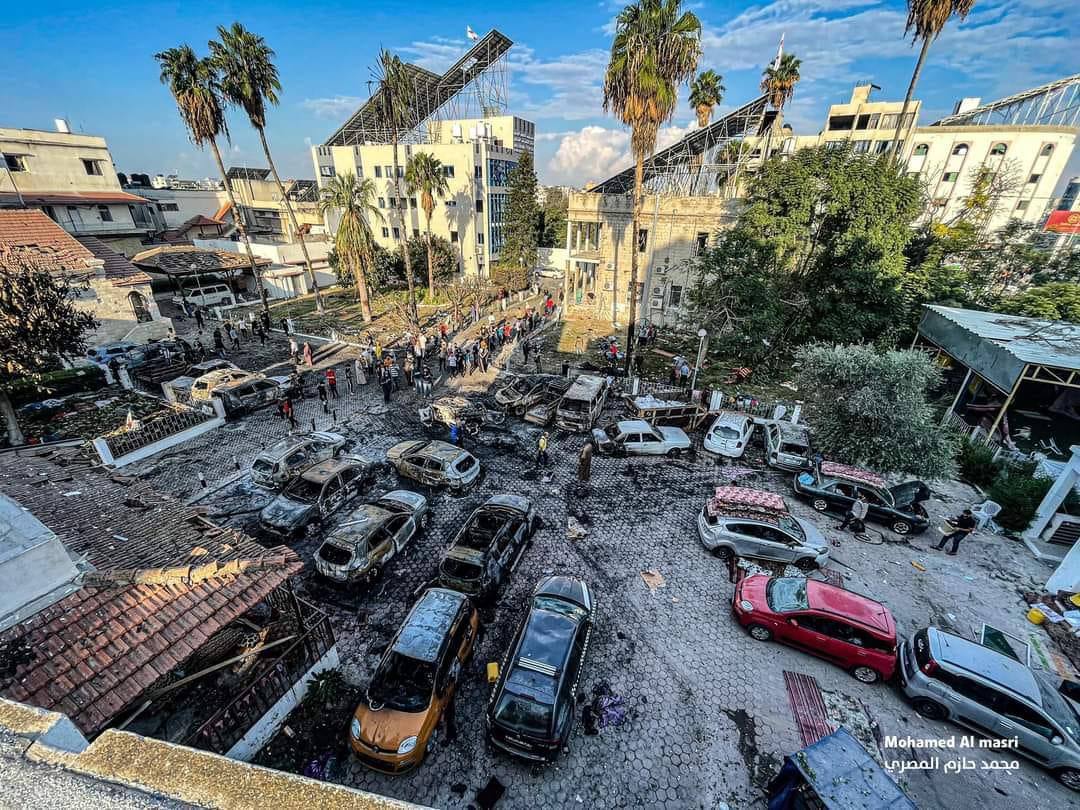 Open source analysts like Nathan Ruser, who works at the Australian Strategic Policy Institute, began to coalesce around a belief that the photo evidence did not suggest an Israeli airstrike. Ruser shared an extensive thread on X explaining that the images shared were not consistent with an airstrike or a civilian casualty count of over 500, adding that some vehicles within 10 meters of the point of impact did not appear damaged. Other researchers have rejected this hypothesis, arguing that Israel uses small enough munitions to have caused the destruction, and pointing out that the same hospital had already been damaged by a separate Israeli bombing on October 14.
However, the rapid proliferation of responses has caused some confusion and helped spread misinformation. For instance, Hanaya Naftali, an Israeli influencer, initially celebrated the explosion and credited it to an Israeli airstrike. Many social media accounts falsely claimed Naftali was a member of the Israeli government, and when his tweet was deleted, accused Israel of orchestrating a cover-up. Similarly, a user on X with the profile name Farida Khan claimed to be an Al-Jazeera reporter who witnessed the strike and said Hamas was behind it and that Al-Jazeera (a Qatari funded media outlet) was covering it up. But the account was fake — no such reporter exists, as Al-Jazeera later confirmed. The tweets were shared thousands of times before the account was shut down.
At the same time, the official Israeli government account released videos claiming to show the rocket launches from Gaza responsible for the blast, but at least one of the videos had the wrong timestamp for the explosion, and was then removed after a New York Times journalist pointed out the discrepancy. Finally, Israel released audio recordings purporting to show Hamas militants confessing to the strike, but the United Kingdom-based Channel 4 news has published reports suggesting the recordings were fake.
The initial reporting that over 500 civilians had been killed by an Israeli air strike sent waves of outrage through the Arab world. Protests broke out at U.S. and Israeli embassies across the Middle East, and leaders from Palestine, Egypt, and Jordan canceled meetings with President Biden. Meanwhile, Biden and U.S. officials have cast doubt on claims that the strike came from Israel, saying their intelligence strongly suggests a rocket misfire from inside Gaza.
Regardless of who is responsible for the strike on the hospital, the civilian toll in Gaza continues to mount. While the total death of over 3,000 Palestinians has not been independently verified, reports from journalists and humanitarian groups of civilian deaths on the ground have been constant over the last week. Israel's bombardment of Northern Gaza is expected to precede a full-fledged ground invasion, and around one million people have been displaced, with the humanitarian situation declining rapidly. Reporting from the ground has shown throngs of desperate civilians waiting in line for food and water, or looking for places to shelter in Southern Gaza.
Today, we're going to take a look at some opinion pieces from the United States about the explosion in Gaza and the state of the war, then my take.
---
What the right is saying.
The right is confident that Israel was not behind the strike and argues the mainstream media is responsible for spreading a false narrative before it had the full facts.
Some say this faulty reporting is typical of journalists who care more about pushing an agenda than finding the truth.
Others say the entire episode serves as a reminder that the U.S. must unequivocally support Israel in this war.
In The Federalist, John Daniel Davidson said the "corporate media are waging an information war regurgitating Hamas propaganda."
"What happened here? This was an info op, a deliberate campaign to alter the narrative of the Israel-Hamas war and inflame the Muslim world. Perhaps a billion people or more are now convinced beyond all doubt that Israel bombed a hospital and killed hundreds of Palestinian civilians," Davidson wrote. "We have seen this kind of op before, many times. In every case, it's designed to serve the domestic interests of the progressive left. In this case, the purpose was to constrain Israel's response to last weekend's horrific Hamas attacks on innocent Israeli civilians."
"It's important to understand that these media info ops only happen on issues where the reporting biases serve the domestic political priorities of the left. From Ukraine to Gaza to the streets of American cities, the reporting bias works in the same direction and serves the same set of interests. The connections and affinity between BLM activists and the pro-Palestinian crowd in the U.S. should be fairly obvious by now, and we should understand these media ops in that light," Davidson said. "By repeating Hamas propaganda they are effectively waging war against Israel, but they are doing so as part of a larger information war to advance their agenda in the United States."
In the Washington Examiner, Zachary Faria criticized the mainstream media for "botching the hospital story."
"The best-case scenario here is that these outlets assumed that the [Gaza] health ministry, which is run by the very same Hamas terrorists who just raped, kidnapped, and slaughtered Israeli civilians, would never dare lie to them. Journalists at those outlets treated the antisemitic animals that make up Hamas as trustworthy sources and then raced to put out stories quickly without checking any facts. Again, that is the best-case scenario," Faria said. "Whatever you think the answer is, it is clear that these media outlets do not deserve the benefit of the doubt."
"This wasn't an innocent mistake or a typo. This was a conscious decision to parrot terrorist talking points and present it as news. At best, their standard for 'journalism' is in the gutter, in which case they deserve your utter contempt for posturing as your moral superiors on 'disinformation.' Given the yearslong media crusade to defend or 'contextualize' Palestinian terrorism against Jews, you should not be expected to assume that the best-case scenario is the only accurate one here."
The Wall Street Journal editorial board wrote about "Hamas's hospital lie and the laws of war."
"President Biden's speech in Israel Wednesday told the world two truths it needed to hear: The tragic deaths outside a Gaza hospital were caused by a Palestinian rocket, and the U.S. hasn't wavered in its solidarity with Israel. The President kept the focus where it should be—on Hamas's gross violations of the laws of war. These are now being misconstrued to tie Israel's hands, with consequences for the West at large," the board said. "Hamas may still call this a success… An angry mob took to the Ramallah streets to protest Mahmoud Abbas, president of the Palestinian Authority, for not doing enough to help Hamas."
"The Western left has been moving to a standard that any civilian casualties in war are too many. If that is the law of war, then Israel would be denied the right of self-defense to destroy an enemy embedded in schools, mosques or dense urban neighborhoods. Under that standard, no Western nation, including the U.S., would be able to strike back against terrorists if civilians might be killed. Those aren't the laws of war; they're the laws of Western unilateral disarmament. Israel deserves U.S. support for its much-lied-about way of war, in addition to its just cause."
---
What the left is saying.
The left mostly accepts the evidence offered by the U.S. and Israel that the strike came from a Palestinian group, but their reaction to the latest information is mixed.
Some say the incident increases the risk of broader regional conflict no matter who was responsible.
Others argue that Israeli intelligence has lied before, and the public should not take their claims at face value.
In Bloomberg, Marc Champion said the hospital strike "escalates war risk, no matter who's to blame."
"Tuesday's events have brought escalation of the conflict closer, narrowing the space for caution and compromise and increasing support across the region for other state and non-state actors to pile in, should Israel launch its expected ground invasion. No matter what evidence emerges to the contrary, popular opinion across much of the world, especially the Muslim world, will remain convinced that Israel killed more than 500 people in a deliberate and heinous attack on a hospital, which amounts to a war crime.
"A second certainty is that there will be more such tragedies for Palestinian non-combatants, and therefore public relations disasters for Israel, if and when it begins its ground attack. The international response already shows that Israel's stock response — the arguments that Hamas bears ultimate responsibility, and that all wars involve collateral damage — has already lost any power it had to persuade," Champion wrote. "Finally, this is the result of Palestinian civilians being cynically used as pawns, as they have been so often in the intractable Israeli-Palestinian conflict."
In Slate, Fred Kaplan explained how the hospital explosion "upended Biden's diplomacy efforts."
"The blast was initially blamed on Israel but was more likely a terrible accident caused, it now seems, by an errant rocket fired by Islamic Jihad, an Iranian-backed militia that occasionally allies with Hamas," Kaplan said. "No matter. In the hours between the initial charge and the release of evidence to the contrary, thousands of enraged protesters across the Middle East took to the streets, and even moderate Arab heads of state were compelled to denounce Israel for the heinous act. A summit in Jordan—which Biden was scheduled to attend with the leaders of Egypt and the Palestinian Authority—was called off."
"The incident could also broadly damage relations between Israel and the region's Sunni Arab nations, which had been improving in recent years as a result of their common enmity toward Iran. In particular, it is almost certain to set back the prospects for normalizing relations with Saudi Arabia. Serious talks normalizing Israeli-Saudi relations—along with the growing sense that both Israel and the Arab nations were ignoring the Palestinians' plight—may well have spurred Hamas terrorists to mount their Oct. 7 attack on Israel."
In Jacobin, Daniel Finn argued "Israel's Western backers are still running interference for Netanyahu's war crimes."
Biden claimed that "a Palestinian group" was responsible for the hospital strike, but "we shouldn't accept for a moment the idea that the US government is an impartial adjudicator that can be trusted to determine whether or not the Israeli military bombed al-Ahli hospital. It is Israel's strongest ally on the world stage, as Biden's visit is meant to underline, and has every reason to provide Netanyahu's government with political cover after the greatest single loss of life in this war to date."
"Israel itself has claimed that a misfiring Islamic Jihad rocket was responsible for the carnage at the hospital. Two Israeli government accounts on social media posted a video clip last night that purported to show what had happened. They later deleted the clip without explanation after journalists pointed out the time stamp, which showed that the recording was made after the explosion took place," Finn said. "Quite simply, it is standard practice for Israeli officials to lie at moments like this, in the hope of muddying the waters until the controversy has died down."
---
My take.
Reminder: "My take" is a section where I give myself space to share my own personal opinion. If you have feedback, criticism, or compliments, don't unsubscribe. Write in by replying to this email, or leave a comment.
It does not look to me like Israel was responsible for this strike.
That being said, there are still a harrowing number of civilian deaths right now — including at other hospitals and schools that have been damaged by Israeli strikes.
Ultimately, the real focus should be on a ceasefire and long-term stability before the war spreads to the whole region.
Let me get the hard part out of the way first: I think this was probably a misfired rocket from Gaza.
A lot of people who were Covid-19 or Ukraine experts yesterday became war experts today — asserting they knew for certain who had done what and why they did it, all in the minutes after this report first broke. Twitter is a cesspool of misinformation right now, with fake accounts, straight-up lies, confident-sounding assertions based on old videos, and people who spent 20 minutes Googling about something trying to correct reporters, academics and researchers who have spent years covering Israel, Palestine, and wars of all kinds.
Many of the experts I trust, including those who are quite critical of Israel, seem inclined toward this being a rocket misfire. I'm not a munitions expert or a war correspondent. I'm not on the ground. But I do have some experience reporting on competing claims. I do have experience reporting in the field, and I've been trained in how to examine videos and images for authenticity (I was one of the first reporters to recognize the fake Khan account). I have a rolodex of reporters and correspondents and researchers I've been following long before this latest spate of violence and a good sense of who is reliable and who isn't. And I know how misinformation spreads.
So I'm analyzing a wide array of views from the people who know how to navigate this stuff, and that's my best assessment: I don't think this was an Israeli strike.
I was initially very agnostic on the story — if anything, I was inclined to think it was Israel. They are, after all, in the middle of a bombardment of Gaza, have damaged other hospitals in Gaza already, have killed scores of civilians, and had even warned this hospital of potential threats after a bomb inadvertently damaged it days prior. Their response — both the video that was removed and the oddly convenient recording of Hamas militants admitting to the attack — certainly raised my suspicions.
But while Israel has lied about events like this in the past, in this case it appears to me their assessment was accurate. I am not taking the IDF's word as proof, just as I don't take the U.S. military's word. What we know for sure is not accurate is that the hospital was leveled, or that the strike definitely came from Israel, as the Palestinian Health Ministry — which is run by Hamas — initially claimed. Reporters should not repeat their claims without skepticism. The death toll of more than 500 civilians also seems highly unlikely, though we probably won't know exactly how devastating the damage was for some time. We are in an information war as much as we are in a shooting war, and everyone should navigate the fog with caution.
Now that the assessment is out of the way, let me say this: An explosion at a hospital is not unlike the debate that broke out about precisely how many Israeli children were beheaded or burned alive after Hamas's attack. Journalistically, it is important for us to get this story right. Morally, the finer details are in some ways not the most relevant. This explosion, whether it was the result of an Israeli rocket or not, has still left rescue crews collecting bodies and remains in a charred parking lot. And while everyone was arguing about who to blame this incident on, Israel did bomb a school run by the United Nations, killing six people. And the situation in Gaza is increasingly desperate.
It would be an ethical and strategic blunder to ignore this reality. Take three minutes to watch this video of what it's like for a Palestinian CNN reporter — someone extremely privileged, knowledgeable, and well informed — trying to evacuate his family. Or read the stories of the American citizens trying to evacuate into Egypt. Or the increasingly desperate situation at Gazan hospitals. Consider the fact that some of the people who died in this hospital explosion had heeded warnings that the hospital was at risk, had left to attempt to find alternative shelter, and then returned when they couldn't. Again: Gazans are not responsible for Hamas's crimes, and this strip of land is densely populated with millions of innocent people.
Some people are asking the rhetorical question, "What should Israel do in response?" As a hypothetical, it's a really hard question to answer. But given the events of the last two weeks, the answer seems obvious to me: Nothing more. Because Israel has already responded.
They killed over 1,500 Hamas fighters in the initial battle. They have flattened dozens of buildings in Gaza — including schools, housing, and health centers. At least 19 journalists have been killed, a sign of how wide-reaching the violence has been. Israel has, in all likelihood, killed hundreds of Palestinian civilians — and the number may already be in the thousands. They have displaced one million people. Senior Hamas leaders are being killed left and right. They're clashing with protesters in the West Bank, where the resulting violence has also killed people. They are rallying support from allies in Europe and the United States.
That is the response. A lot of the commentary assumes Israel should pursue a strategy of uprooting and destroying Hamas, which implies that what we've seen so far is only the beginning. But as the U.S. learned in launching a full-scale attack to destroy al-Qaeda, what follows could well be worse. And as I wrote earlier this week, Israel should be careful not to repeat the same post-9/11 mistakes the U.S. made. Israel's response has already been violent, and it's been forceful, and it's been severe.
And it's been devastating — for Palestinians, for Gazans, and for Hamas. But any 'next steps' would make it worse for the innocent. Arkansas Sen. Tom Cotton (R) called for 'bouncing the rubble' in Gaza, a Winston Churchill expression meaning apocalyptic military overkill. Lindsay Graham (R-SC) said we should "level the place." Breitbart reporter Joel Pollak, who is Jewish, recently said if "it comes down to ethnic cleansing — you want to cleanse my people, I'll cleanse yours first."
Shortly after President Biden's meeting with Netanyahu, Egypt announced that it would allow humanitarian aid into Gaza. That is a good and sensible step. Frankly, it's jarring it took so long. But hours later the U.S. vetoed a ceasefire the rest of the world voted for, a tacit vote of approval for an Israeli ground offensive. Rather than ramp up to a full-scale invasion, the next move should be to get the nearly 200 hostages Hamas captured back to Israel safely and find a way to get Hamas and Hezbollah to stop launching barrages of rockets into Israel. There appear to be options on the table.
The alternative to that is that Israel goes into Gaza, risks its own soldiers' lives, kills many more on the ground, and potentially drags the region into a prolonged war — and maybe the U.S. into it as well. That kind of response would be predictable, which is good reason to think it is exactly what Hamas and its allies in Iran want. All of that, on top of the suffering we have already witnessed, should give Israel and the U.S. pause.
---
Your questions, answered.
We're skipping today's reader question to give our main story some extra space. Want to have a question answered in the newsletter? You can reply to this email (it goes straight to my inbox) or fill out this form.
---
Under the radar.
A new global industry is burgeoning, and it offers insight into the future of one of the building blocks of life on Earth: water. Climate change is spurring both droughts and profusions of water in new areas, forcing governments and businesses to seek it out in unusual places. As a result, the "water delivery" industry has emerged in recent years, with the potential to effect trillions of dollars in commodities and goods exchanged every year. "We're shifting where the water is coming from," says Neal Graham, one of the authors of a recent paper on future global water resources. "Somebody is going to have to use water somewhere to grow these crops — where it happens is what's up for debate." Bloomberg has the story.
---
Numbers.
---
The extras.
One year ago today we covered Biden's new gig economy rule.
The most clicked link in yesterday's newsletter was the conversion therapy discussion on our YouTube channel.
Who would work: 839 Tangle readers responded to our poll asking who they would support for in a House speaker election if they had to choose among a given set of options, with 49% saying Hakeem Jeffries. 20% said Patrick McHenry, 10% said Jim Jordan, 10% said Kevin McCarthy, 7% said Steve Scalise, and 3% said Mike Gallagher. "Can any of them work both sides of the aisle?," one respondent asked.
Nothing to do with politics: A profile on some of my personal recommendations from our friends at Rambull.
Take the poll. Who do you think was responsible for the al-Ahli hospital explosion? Let us know!
---
YouTube promo.
A few weeks ago, an email landed in my inbox that caught my eye. It was from a Tangle reader — a former church leader — who had experienced conversion therapy and was now fighting against it. His story was fascinating, and in many ways contained all the nuance and complications we try to flesh out here in Tangle. So we turned on the mics (and cameras) for a conversation, which turned into the interview below.
---
Have a nice day.
Microplastics are a modern new environmental danger. Mass quantities of them have been found at the deepest depths of the ocean, swirling around in the jetstream, and blowing over remote mountain peaks; and scientists are still trying to study their adverse health effects. But recently, Chinese scientists have figured out a way to potentially rein them in, with experimental sponges made out of starch and gelatin that can soak up microplastics before they enter the oceans or broader environment. The key, scientists speaking with Hakai Magazine say, is to cut out the microplastic pollution at its source. Good News Network has the story.
---
Don't forget...
📣 Share Tangle on Twitter here, Facebook here, or LinkedIn here.
🎥 Follow us on Instagram here or subscribe to our YouTube channel here
💵 If you like our newsletter, drop some love in our tip jar.
🎉 Want to reach 77,000+ people? Fill out this form to advertise with us.
📫 Forward this to a friend and tell them to subscribe (hint: it's here).
🛍 Love clothes, stickers and mugs? Go to our merch store!