The Israel-Palestine conflict has unraveled.
I'm Isaac Saul, and this is Tangle: an independent, nonpartisan, subscriber-supported politics newsletter that summarizes the best arguments from across the political spectrum on the news of the day — then "my take."
Are you new here? Get free emails to your inbox daily. Would you rather listen? You can find our podcast here.
---
Today's read: 17 minutes.
📖
Today's newsletter is unusually long because there is a lot of ground to cover. We'll be breaking down the attacks in Israel by Hamas, the response, and what happens now.
---
From today's advertiser: Find out why D.C. Policy Influencers and Wall Street Executives trust this business newsletter.
Founded by investment bankers, journalists, and scholars, The Daily Upside is our favorite source for premium business news that's actually worth reading.
The Daily Upside is jam packed with insights to keep investors informed. Find out why executives from Blackstone and Goldman Sachs read The Daily Upside religiously.
Join 1M subscribers — including the team at Tangle — who trust The Daily Upside, subscribe today for free.
*If you don't want ads, you can subscribe to our ad-free newsletter here.
---
Quick hits.
---
Today's topic.
Editor's note: In today's issue, we'll be covering one of the most contentious topics there is. If you object to something you read, want to give a note of support, or otherwise have an opinion or perspective you want to share, feel free to write in (respectfully). Please don't unsubscribe because you read something you don't like. We plan to publish an edition of reader feedback on Friday.
The attack on Israel. Over the weekend, Hamas militants executed a surprise attack on Israel from Gaza, killing over 900 people and wounding more than 2,500. Over 250 people were found dead at a music festival in southern Israel near Gaza, with witnesses saying they fled for their lives as gunmen opened fire on them Saturday morning. Israel says more than 150 civilians and soldiers have been taken hostage. 11 American citizens have been counted among the dead. Those counted missing or dead now include nationals from the United Kingdom, France, Ukraine, and Mexico. One German-Israeli woman was identified by her parents after video circulated of her naked lifeless body being paraded through Gaza by Hamas militants.
The attack was a shocking failure of Israel's typically stout intelligence and security, and was the deadliest attack on Israel in decades. You can find Gaza in the southwest corner of the map of Israel below: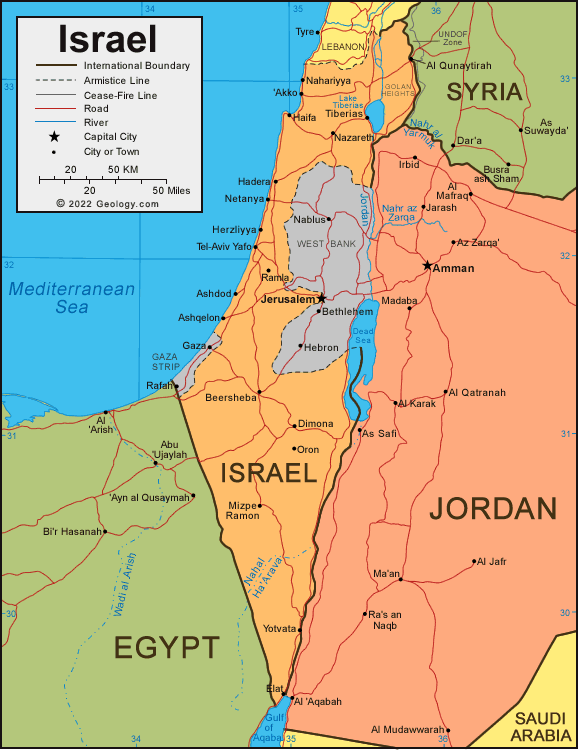 Reminder: Hamas is an Islamist militant group that currently controls Gaza. The United States and European Union designate Hamas as a terrorist organization. Israel occupied Gaza for 38 years after the 1967 Six-Day War, until 2005 when, under international pressure, Israel withdrew its military presence and settlers from Gaza. However, Israel maintains significant control over the borders of the densely populated strip of land, where over two million people live, nearly half of whom are under 19. Israel and Egypt maintain a land, air, and sea blockade on Gaza that they justify as a security measure. As a result, Gaza is steeped in deep poverty and suffers a lack of resources, with unemployment rates approaching 50% in 2022.
Since 2006, Hamas has controlled Gaza, but it has not held elections since then. Hamas was founded in 1987 during an uprising against Israel, and its stated aim is to destroy the state of Israel. Many Palestinian leaders oppose Hamas because of its use of violence, and it is a divisive group among Palestinians. A separate entity — the Palestinian Authority — controls the West Bank, which borders Jordan in northeastern Israel and is currently under Israeli military occupation.
Israel responded to the attack by declaring war, calling up over 360,000 reservists, and pledging a full-fledged siege of Gaza. Israel's military said it would cut off food, water, and electricity in Gaza while bombing militant outposts. Hamas's armed wing has pledged to execute the hostages taken in the attack if Israel continues to bomb Gaza without warning. Israel says it has already taken control of communities stormed by the gunmen over the weekend, and there is no ongoing fighting between Hamas and Israeli forces in Israel, though Hamas and Hezbollah (a militant group in Lebanon) have continued to fire rockets into Israel.
Israel says it killed roughly 1,500 Palestinian fighters in battles along the border. At least 687 Palestinians have already been killed by the airstrikes in Gaza, including dozens of women and children. Over 3,700 people have been injured, according to the Palestinian Ministry of Health, and that number is expected to grow. More than 124,000 Palestinians have fled their homes in anticipation of an Israeli bombardment.
Hamas's attack came after a year of increased violence and tension between the two sides. Hamas leaders said it committed the attack in response to violence against Palestinians in the West Bank, the blockade of Gaza, and in defense of the Al-Aqsa Mosque in Jerusalem, both a Muslim and Jewish holy site where Jews have been praying while accompanied by Israeli soldiers. The site has been the scene of repeated conflict this year. The attack is also likely to undermine the U.S.-brokered talks to normalize relations between Saudi Arabia and Israel, which could have resulted in further diminished Palestinian influence in the Arab world.
Obviously, the Israel-Palestine issue is far too complex to capture completely in a single newsletter. It is also too complex to only share "right" and "left" views from America. So today, we're going to share some commentary from voices who are generally "pro-Israel" and "pro-Palestine" in the conflict.
---
What the pro-Israel side is saying.
Supporters of Israel say the country should do everything in its power to destroy Hamas.
Others say there's no doubt this attack was an act of terrorism, and the international community must stand with Israel in its response.
Israeli writers are split on how to respond to the attack, but some suggest Israel must go into Gaza to properly respond to the threat of Hamas.
In The Jerusalem Post, Yaakov Katz argued Israel must respond to the attack with a ground invasion of Gaza.
"Any ground offensive inside one of the most densely populated areas in the world will, unfortunately, come at a price. Hamas and Palestinian Islamic Jihad have had years to prepare for Israeli troops, digging tunnels, assembling powerful improvised explosive devices, and booby-trapping homes and hothouses. Israel will have to enter Gaza carefully," Katz wrote. "The other alternative is not to go inside and to continue to try and surgically strike at Hamas infrastructure from the air, as it has done in previous operations, and suffice with that. The advantage here is that it would prevent further casualties among the soldiers.
"But when looking at the options, the second one is not really viable. Israel must go into Gaza for two primary reasons. The first is that it needs to defend Israel and push the line of contact into enemy territory… The second reason is because the entire region – and the whole world – is watching. It is true that a ground offensive that sees more casualties and destruction of infrastructure could push Hassan Nasrallah and Hezbollah to enter the fray, but the alternative – not going in – would be interpreted as a sign of weakness, and Israel cannot afford to appear weak any longer."
National Review's editors said "Israel needs a long leash to destroy Hamas."
"In the days and weeks ahead, Israel will have to conduct a long, complex, and delicate operation the likes of which have never been seen before. Israel will have to clear out southern towns and hunt down all the Hamas terrorists who remain in Israel; identify, find, and rescue hostages; protect the north from Iran's other proxy, Hezbollah — and it will have to pulverize Hamas. Israel will require a long leash to ensure that nothing like this ever happens again. The traditional rhythm of conflict between Israel and its enemies has been that Israel gets attacked and is given a small window to respond, and then world public opinion gathers against Israel, while Western leaders urge 'calm' and an end to the 'cycle of violence,'" the editors wrote.
"The operating theory has been that dealing with a weakened Hamas that can be degraded periodically is better than pulverizing the terrorist group and depriving Gaza of any governing authority, leaving only chaos. But after what has just happened, that calculation has changed. Israeli leaders have now recognized that Hamas can no longer be tolerated — it must be destroyed." Biden has said the U.S. will stand with Israel, and "if he truly means it, he must give Israel free rein for as long as it takes to do whatever is necessary to vanquish its savage foes."
In CNN, Frida Ghitis argued "Hamas' attack on Israel is an indisputable act of terrorism."
"There's much that Israel has done wrong. But nothing justifies what Hamas has just perpetrated. As many knowledgeable people have pointed out, what Hamas has done is clearly an act of terrorism, no matter what your definition," Ghitis said. "This disaster is occurring at a time of deep political fractures in Israel. The time will come for recriminations and the political consequences for this failure will be severe. But the priority is elsewhere now. Benny Gantz, a retired general and one of the opposition leaders, declared, in what he said was a message to Iran, 'The entire people of Israel are united…There is no coalition and opposition now.'
"For now, Israel is dealing with the immediate threat. And soon, Israel will undoubtedly face withering condemnation, as it always does… As sure as night follows day, Israel will retaliate, and millions around the world will blame Israel – and the Jews – ignoring what happened this bloody Saturday. The Israeli-Palestinian conflict is extraordinarily complicated. But there's no denying that what happened on Saturday was an act of terrorism, one that deserves clear, unequivocal condemnation."
---
What the pro-Palestine side is saying.
Supporters of Palestine say Israel has only its own policies to blame for the situation it now finds itself in.
Others compare the moment to other famous uprisings against oppressive regimes and say that Palestinian fighters' tactics are justified.
Palestinian writers say the attack should not come as a surprise to Israel after decades of violent oppression of the Palestinian people.
In Middle East Eye, Gaza-based journalist Maha Hussaini wrote about "why Gaza's attack on Israel was no surprise."
"For Palestinians, being at war is an enduring reality that has shaped their daily lives for the past seven decades. Since the Palestinian Nakba in 1948, which resulted in the forcible displacement of 750,000 Palestinians from their towns and villages, successive Israeli governments have committed hundreds of human rights violations, including ethnic cleansing, apartheid, and mass killings, all of which amount to war crimes according to international law. While Palestinians have long said that Israel's practices are part of a war waged against their very existence, Israel has managed to get away with its violations, enjoying complete impunity that has lasted for more than 75 years," Hussaini said.
"While the attack is described as 'surprising' by many, an escalation of events was undoubtedly expected, given Israel's tightening of restrictions and the rise in assaults across the occupied Palestinian territories during the past few months," Hussaini added. "In the first nine months of 2023 alone, Israel has killed at least 230 Palestinians, a level of violence that has already exceeded the total death toll during 2022. It is also the highest recorded number of casualties in the ongoing conflict between Israel and the Palestinians since 2005, according to the United Nations… This rise in Israeli military and settler brutality signifies an unprecedented level of violence across all the Palestinian territories, fueled and encouraged by a troubling sense of impunity and a lack of accountability for those responsible."
In Al Jazeera, Somdeep Sen said the attack was "provoked by Israeli aggression and occupation."
"Some have called Hamas's attack a 'colossal failure' of the Israeli military and intelligence apparatus. Others, mostly diplomats and political leaders from the West and beyond, have labelled it an 'unprovoked' 'terrorist' act while insisting that Israel has the 'right to defend itself'. But nothing about this operation is surprising or unprovoked. Neither is it just the result of gaps in Israeli security measures. It is a response that is to be expected from the Palestinian people, who have faced Israeli settler colonial rule and occupation for decades," Sen wrote. "It is also not surprising that the Palestinian armed factions rely on asymmetric tactics and stealth. That is because they are up against one of the most sophisticated and well-funded armed forces in the world."
"Gaza has also been under debilitating siege for 16 years, which has taken a heavy toll on its people but has failed to destroy their will to resist," Sen said. "But all these years of tragedy and suffering have not killed the Palestinian spirit of resistance… In fact, what appears to be the largest military response by Palestinians in decades was an inevitable development, an act of resistance and a reaction to the suffering of the people of Gaza under a brutal blockade and occupation. It is part of the Palestinian struggle for freedom, and it solidifies Gaza's place at the heart of it."
In CounterPunch, David Rovics praised "the Gaza Ghetto Uprising," comparing the attack to the Warsaw Ghetto Uprising in 1943.
"If half-starving people with no clean water or the ability to travel outside of their ghetto launch any kind of uprising, the obvious context is the fact that they were under siege, living in a walled ghetto, prevented from importing the things they need to survive and prevented from traveling. This is the obvious reason for any people living in such conditions to rise up against their occupying power. But instead, we are fed a narrative that begins with the ghetto uprising, without any explanation for the basic nature of the situation, that is, that an occupying army is forcing people to live and starve in a walled ghetto," Rovics said.
"Physically fighting back against an occupying army, according to international law that all the countries in the world have signed on to long ago, is justified, and is not 'terrorism.' You'd have to be very lucky to tune in during one of the very brief moments when international law might ever be mentioned in one of these western news stories about this uprising. International law is only apparently relevant when it comes to the Russian invasion of Ukraine, or other incidents where it seems convenient to mention."
---
Other takes.
---
My take.
Reminder: "My take" is a section where I give myself space to share my own personal opinion. If you have feedback, criticism, or compliments, don't unsubscribe. Write in by replying to this email, or leave a comment.
People ask me all the time if I am "pro-Israel" because I am a Jew who has lived in Israel, and my answer is that being "pro-Israel" or being "pro-Palestine" or being a "Zionist" does not properly capture the nuance of thought most people do or should have about this issue. It certainly doesn't capture mine.
I have a lot to say. I've spent the last 72 hours writing, texting, and talking to Israelis, Jews, Muslims, and Palestinians. Much of my reaction is going to piss off people on "both sides," but I am exhausted and hurting and I do not think there is any way to discuss this situation without being radically honest about my views. So I'm going to try to say what I believe to be true the best I can.
Let me start with this: It could have been me.
That's a hard thought to shake when watching the videos out of Israel — the concert goers fleeing across an empty expanse, the hostages being paraded through the streets, the people shot in the head at bus stops or in their cars. I went to those parties in the desert, I rubbed shoulders with Israelis and Arabs and Jews and Muslims, I could have easily accepted an invitation to some concert near Sderot and gone without a care, only to be indiscriminately slaughtered. Or, perhaps worse, taken hostage and tortured.
I don't believe Hamas is killing Israelis to liberate themselves, nor do I believe they are doing it to make peace. They're doing this because they represent the devil on the shoulder of every oppressed Palestinian who has lost someone in this conflict. They're doing it because they want vengeance. They are evening the score, and acting on the worst of our human impulses, to respond to blood with blood — an inclination that is easy to give in to after what their people have endured. It should not be hard to understand their logic — it is only hard to accept that humans are capable of being driven to this. Not defending Hamas is a very low bar to clear. Please clear it.
It's not possible to recap the entire 5,000 year history of people fighting over this strip of land in one newsletter. There are plenty of easily accessible places you can learn about it if you want to (and, by the way, many of you should — far too many people speak on this issue with an obscene amount of ignorance, loads of arrogance, and a narrow historical lens focused on the last few decades). But I'll briefly highlight a few things that are important to me.
In my opinion, the Jewish people have a legitimate historical claim to the land of Israel. Jews had already been expelled and returned and expelled again a half dozen times before the rise of the Muslim and Arab rule of the Ottoman Empire. Of course it's messy because we Jews and Arabs and Muslims are all cousins and descendents of the same Canaanites. But Arabs won the land centuries ago the same way Israel and Jews won it in the 20th century: Through conflict and war. The British defeated the Ottoman Empire and then came the Balfour Declaration, which amounted to the British granting the area to the Jewish people, a promise they'd later try to renege on — all before the wars that have defined the region since 1948.
That historical moment in the late 1940s was unique. After World War II, with many Arab and Muslim states already in existence, and after six million Jews were slaughtered, the global community felt it was important to grant the Jewish people a homeland. In a more logical or just world that homeland would have been in Europe as a kind of reparation for what the Nazis and others before them had done to the Jews, or perhaps in the Americas — like Alaska — or somewhere else. But the Jews wanted Israel, the British had taken to the Zionist movement, the British had conquered the Ottoman Empire which handed them control of the land, and America and Europe didn't want the Jews. As a result, we got Israel.
The Arab states had already rejected a partitioned Israel repeatedly before World War II and rejected it again after the Holocaust and the end of the war. They did not want to give up even a little bit of their land to a bunch of Jewish interlopers who were granted it all of a sudden by British interlopers who had arrived a hundred years prior. Who could blame them? It had been centuries since Jews lived there in large numbers, and now they wanted to return in waves as secularized Europeans. Many of us would probably react the same way. So, just as humans have done forever, they fought. The many existing Arab states turned against the burgeoning new Jewish state. One side won and one side lost. This is the brutal and broken and violent world we live in, but it is what created the global world order we have now.
Are Israelis and British people "colonizers" because of this 20th century history? Sure. But that view flattens thousands of years of history and conflict, and the context of World War I and World War II. I don't view Israelis and Brits as colonizers any more than the Assyrians or the Babylonians or the Romans or the Mongols or the Egyptians or the Ottomans who all battled over the same strip of land from as early as 800 years before Jesus's time until now. The Jews who founded Israel just happened to have won the last big battle for it.
You can't speak about this issue in a vacuum. You can't pretend that it wasn't just 60 years ago when Israel was surrounded on all sides by Arab states who wanted to wipe them off the face of the planet. Despite the balance of power shifting this century, that threat is still a reality. And you can't talk about that without remembering the only reason the Jews were in Israel in the first place was that they'd spent the previous centuries fleeing a bunch of Europeans who also wanted to wipe them off the face of the planet. And then Hitler showed up.
American partisans have a narrow view of this history, and an Americentric lens that is infuriating to witness. As Lee Fang perfectly put it, "Hamas would absolutely execute the ACAB lefties cheering on horrific violence against Israelis if they lived in Gaza & U.S. right-wingers blindly cheering on Israeli subjugation of Palestinians would rebel twice as violently if Americans were subjected to similar occupation."
And yet, many Americans only view modern Israel as the "powerful" one in this dynamic. Which is true — they obviously are. It isn't a fair fight and it hasn't been for decades because Israel's government is rich and resourceful, has the backing of the United States and most of Europe, and has an incredibly powerful military. At the same time, Israeli leadership has made technological and military advancements that have further tipped those scales — all while the Israeli government has helped create a resource-thin open air prison of two million Arabs in Gaza.
Conversely, Palestinians are devoid of any real unified leadership, and the Arab world is now divided on the issue of Palestine. Israel is unwilling to give the people in Gaza and the West Bank more than an inch of freedom to live. These are largely the refugees and descendents of the refugees of the 1948 and 1967 wars that Israel won. And you can't keep two million people in the condition that those in the Gaza strip live in and not expect events like this.
I'm sorry to say that while the blood on the ground is fresh. The Israelis who were killed in this attack largely have nothing to do with those conditions other than being born at a time when Israel and Jews have the upper hand in this conflict. Some of the victims weren't even Israeli — they were just tourists. This is why we describe them as "innocent" and why Hamas has only reaffirmed that they are a brutal terror organization with this attack — an organization that I hope is quickly toppled, for the sake of both the Palestinian people and the Israelis. But as someone with a deep love for Israel, with friends in danger and people I know still missing, it breaks my heart to say it but I'm saying it again because it remains perhaps the most salient point of context in a tangled mess full of centuries of context:
You cannot keep two million people living in the conditions people in Gaza are living in and expect peace.
You can't. And you shouldn't. Their environment is antithetical to the human condition. Violent rebellion is guaranteed. Guaranteed. As sure as the sun rising.
And the cycle of violence seems locked in to self-perpetuate, because both sides see a score to settle:
1) Israel has already responded with a vengeance, and they will continue to. Their desire for violence is not unlike Hamas's — it's just as much about blood for blood as any legitimate security measure. Israel will "have every right to respond with force." Toppling Hamas — a group, by the way, Israel erred in supporting — will now be the objective, and civilian death will be seen as necessary collateral damage. But Israel will also do a bunch of things they don't have a right to. They will flatten apartment buildings and kill civilians and children and many in the global community will probably cheer them on while they do it. They have already stopped the flow of water, electricity, and food to two million people, and killed dozens of civilians in their retaliatory bombings. We should never accept this, never lose sight that this horror is being inflicted on human beings. As the group B'Tselem said, "There is no justification for such crimes, whether they are committed as part of a struggle for freedom from oppression or cited as part of a war against terror." I mourn for the innocents of Palestine just as I do for the innocents in Israel. As of late, many, many more have died on their side than Israel's. And many more Palestinians are likely to die in this spate of violence, too.
Unfortunately, most people in the West only pay attention to this story when Hamas or a Palestinian in Gaza or the West Bank commits an act of violence. Palestinian citizens die regularly at the hands of the Israeli military and their plight goes largely unnoticed until they respond with violence of their own. Israel had already killed an estimated 250 Palestinians, including 47 children, this year alone. And that is just in the West Bank.
2) Every single time Israel kills someone in the name of self-defense they create a handful of new radicalized extremists who will feel justified in wanting to take an Israeli life in retribution sometime in the future. Half of Gaza's two million people are under the age of 19 — they know little besides Hamas rule (since 2006), Israeli occupation, blockades, and rockets falling from the sky. The suffering of these innocent children born into this reality is incomprehensible to me. They will suffer more now because of Hamas's actions and Israel's response, all through no fault of their own.
There is no way out of this pattern until one side exercises restraint or leaders on both sides find a new solution. Israelis will tell you that if Palestinians put their guns down then the war would end, but if Israel put their guns down they'd be wiped off the planet. I don't have a crystal ball and can't tell you what is true. But what I am certain of is that every time Israel kills more innocents they engender more rage and hatred and recruit more Palestinians and Arabs to the cause against them. There is no disputing this.
So, why did this happen now?
I'm not sure how to answer that question except to say it was bound to happen eventually. It was a massive policy and intelligence failure and Netanyahu should pay the price politically — he is a failed leader. Iran probably helped organize the attack and the money freed up by the Biden administration's prisoner swap probably didn't help the situation, either. Israel's increasingly extremist government and settlers provoking Palestinians certainly didn't help. Nor has going to the Al-Aqsa mosque and desecrating it. Nor do blockades and bombings and indiscriminate subjugation of a whole people. Nor does refusing to talk to non-terrorist leaders in Palestine. Nor does illegally continuing to expand and steal what is left of Palestinian land, as many Jews and Israelis have been doing in the 21st century despite cries from the global community to stop. A violent response was predictable — in fact, plenty of people did predict it.
Israel is forever stuffing these people into tinier and tinier boxes with fewer and fewer resources. But if you want to blame Israeli leaders for continuing to expand and settle land that does not belong to them (as I do), then you should also spare some blame for Palestinian leaders for repeatedly not accepting a partitioned Israel during the 20th century that could have led to peace (as I do).
Please also remember this: Hamas is still an extremist group. The Palestinian people do not have a government or leaders who legitimately represent their interests, and it sure as hell isn't Hamas. Will some Palestinians cheer and clap at the dead, or spit on them as they are paraded through Gaza? Yes they will. And they have. Many will also mourn because they loathe Hamas and know this will only make things worse. This is no different than how some Americans cheer at the dead in every single war we've ever fought. It's no different than the Israelis who set up lawn chairs to watch their government bomb Palestine and cheer them on, too. This doesn't mean Palestinians or Israelis or Americans are evil — it means some of them are giving in to their violent impulses, and their zealous feelings of righteous vengeance.
Solutions, you ask? I can't say I have any. If you came here for that, I'm sorry. The two-state solution looks dead to me. A three-state solution makes some sense but feels out of the view of all the people who matter and could make it happen. I wish a one-state solution felt realistic — a world of Israelis and Arabs and Muslims and Jews living side by side with equal rights, fully integrated and defused of their hate, is a version of Israel that I would adore. But it seems less and less realistic with every new act of violence.
Am I pro-Israel or pro-Palestine? I have no idea.
I'm pro-not-killing-civilians.
I'm pro-not-trapping-millions-of-people-in-open-air-prisons.
I'm pro-not-shooting-grandmas-in-the-back-of-the-head.
I'm pro-not-flattening-apartment-complexes.
I'm pro-not-raping-women-and-taking-hostages.
I'm pro-not-unjustly-imprisoning-people-without-due-process.
I'm pro-freedom and pro-peace and pro- all the things we never see in this conflict anymore.
Whatever this is, I want none of it.
Reminder: We're going to share reader feedback in our Friday edition. If you want to write in, you can reply to this email.
---
Your questions, answered.
We're skipping the reader question today to give our main story some extra space. Want to have a question answered in the newsletter? You can reply to this email (it goes straight to my inbox) or fill out this form.
---
Numbers.
---
The extras.
One year ago today we wrote about Biden's mass marijuana pardons.
The most clicked link in Thursday's newsletter was the new construction on the border wall.
Yes, but...: 560 Tangle readers responded to our poll asking if Amazon or Google are guilty of anti-competitive practices, with 60% saying that both companies are guilty. 11% said only Amazon is, 6% said only Google is, 13% said neither company is, 10% were unsure or had no opinion. "Anti-competitive seems like a given. Illegal practice seems a much harder thing to prove," one respondent said.
Nothing to do with politics: Will Ferrell DJing a college party.
Take the poll. Which side do you find more sympathetic in this conflict? Let us know!
---
Have a nice day.
In the days since the attack in Israel, I've personally had three conversations with Palestinians or Palestinian-Americans. Each of them has been rewarding, educational, and healing in more ways that I can capture here. One was a video chat with a Tangle reader, and after spending an hour sharing our different views we exchanged phone numbers to keep in touch and keep building our relationship, each sharing how we felt better than we did before the conversation started. Despite all the news about this violence and the divisions, there are swathes of people across this conflict working to build bridges. I've personally participated in groups like Ultimate Peace — which brings Israelis and Palestinians together through the sport of ultimate frisbee. But there are other groups like the Alliance for Middle East Peace, Peace Now, and the American Friends of the Parents Circle - Families Forum. I encourage you to explore these groups during this time of division.
---
Don't forget...
📣 Share Tangle on Twitter here, Facebook here, or LinkedIn here.
🎥 Follow us on Instagram here or subscribe to our YouTube channel here
💵 If you like our newsletter, drop some love in our tip jar.
🎉 Want to reach 68,000+ people? Fill out this form to advertise with us.
📫 Forward this to a friend and tell them to subscribe (hint: it's here).
🛍 Love clothes, stickers and mugs? Go to our merch store!